Our Mostly Debut Author interview series continues, which means, yay, more book giveaways! Today's stellar guest is
Nancy Haddock
, author of the Oldest City Vampire series, which takes place in America's Oldest City, St. Augustine, Florida, and features a unique vampire heroine who works as a ghost tour guide--and in her spare time, loves to surf. I'm really excited about this one, because as you can imagine, I like a fun twist on vampires.
Romance Junkies called
La Vida Vampire
, the first in the series, "An exceptionally innovative vampire romance filled with tons of fun." Check out
an excerpt
, and read on to learn more about Nancy and her new series.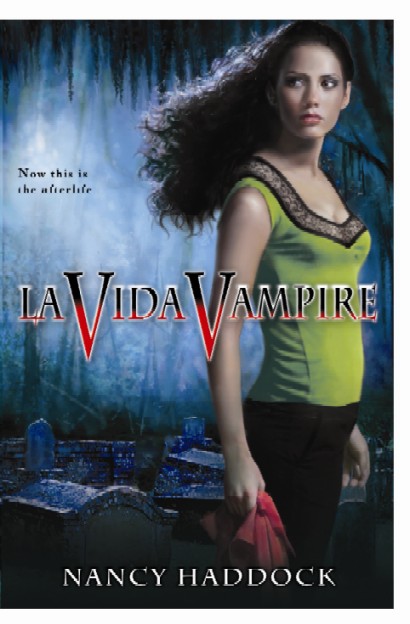 Q: What's been the most surprising/thrilling thing about being a debut author?
Grins! The surprises were many, and they were all thrilling! Receiving such wonderful reviews -- including the 4.5 Star Top Pick from Romantic Times, and being featured in the RT Clubhouse -- was huge. Being in the top 20 for romance trade on the BGI, B&N and Brookscan lists was enormous. Being being on the B&N romance trade bestseller list for 7 weeks was, well, I'm running out of superlatives. So many moments have been surreal, but delightfully so. Of course, seeing the book on the shelf in my hometown B&N for the first time was one of those surreal moments. So much so that, in the pictures my hubby took, I look shell shocked. I've also been blessed to have authors like the fabulous Jeri Smith-Ready invite me to blog with them. Now that's a high!
Your Oldest City Vampire series contains ghosts as well. How do these undead (sorry, Cesca, I mean "un-alive") beings all get along?
Cesca says "underdead" is fine for her, and that she gets along quite well with the ghosts thank you. Fay is chronically cranky, and some of the ghosts are pranksters, but they're harmless to residents and tourists. That is, unless Haddock decides to stir them up.
Tell us about the moment when the idea for a surfing vampire hit you.
Exploring Cesca's character was like getting to know a new friend. She let me know that she loved the beach, and used to take off in her dad's rowboat to romp on Anastasia Island. When she insisted that she day-walked, she reminded me that she'd want to put in beach time. And
that, hey, if she was at the beach in the daylight she should learn to surf! So, credit for the idea goes to Cesca. I had to mull before I agreed.




You've adapted LA VIDA VAMPIRE into a screenplay. What were some of the challenges in this process? Which plot points or characters elements got left out? Added? Changed?



In the screenplay, I had to find ways to show crucial points of internalization with different action and dialogue, and to focus down to the essentials of the story. For instance, instead of Gorman confronting Saber and Cesca in Wal-Mart, Gorman confronts them outside the Spanish
restaurant. I love the way the scene works! I also axed certain characters, but that was in the first few drafts. After consulting with my daughter and collaborator, I'm rewriting the screenplay to bring some characters back.

Of course, should the book - or screenplay - be optioned, the project well may be turned over to a screenwriter with an industry track record. I can live with that!

If you could inhabit the life of any of your characters, enter their world and deal with it as that person, which one would you choose?
Oooh, I'd be Millie! She has season tickets to the Jacksonville Jags games, has a new boyfriend in the sequel to La Vida Vampire, and is old enough to say what she wants and get away with it. I would, however, cut back on the amount of Shalimar she uses.
Conversely, which of your characters would you most like to bring to life in our world (maybe as a best friend or much, much more ;-) ?
I'd love to have Cesca for a best friend and surfing buddy. She's my first pick. My second choice would be Triton. I could live with the shape-shifting!
Same two questions, but use examples from another author's work (including television/movies/theatre)?
I'd adore stepping into the lives of several women in Kelley Armstrong's The Otherworld series! Paige, Jaime, Eve. I wouldn't want to be Elena right now. She just had twins.
As for bringing another author's character to life, I have so many favorite authors with so many great characters, I'd love to meet and befriend any of them. (The good guys and gals, that is!) Stephanie Plum would be a hoot to hang with!
Which author, living or dead, would you most love to collaborate with?
The real question is who would want to collaborate with me, but my answer is Anne Frank or Helen Keller.
What's the weirdest tidbit of research you've ever incorporated into a book?
Another toughie! What a safe deposit box key of the late 1920s looks like. There was nothing on-line, zip. I finally talked with a wonderful woman who works at a bank owned by people I grew up with in Oklahoma. She knew the answer!
What's your earliest memory?
I remember people bending over my crib and talking to me.
Name a literary cliche that makes you throw a book across the room.
Nothing makes me throw a book anywhere. I don't have huge pet peeves about clichés, though I work at twisting the ones I use. What will make me put a book down is lack of logic in the story, poorly drawn or motivated characters. Big things. I may be a more patient reader than some.
Let's say there's a TV show, movie, or recording artist that has a cult of you. Which is it? (i.e., what do you like that no one else you know likes)?
F-Troop. The series ran on an "oldies" station, and I got obsessive about watching it.
If you had a free day with no responsibilities and your only mission was to enjoy yourself, what would you do?
I'd go to the Mission Nombre de Dios and feed the squirrels in the morning, then hang out in town for a while. Hit the St. Photios Shrine, and some out of the way places I don't go into much. In the afternoon, I'd hang out at the beach. After a possible nap, I'd watch some favorite movie or TV show. Then I'd read as long as I wanted to, not worrying about what time I had to get up the next day.
If you could write in a totally different genre than your current one, which would you choose?
Ooooh, Regency romance. I adore Regencies and have for years!
What are you working on now, and what new releases can we expect to see from you down the road?
I'm finishing my revisions on the sequel to La Vida Vampire now, and release date is May 2009. I'll probably start the next book in the series fairly soon after I turn in this sequel, simply because the idea and initial few scenes are starting to call me. I'm also revising a cozy mystery series, and working on another paranormal idea.
If you could tell a stranger just one thing about LA VIDA VAMPIRE (other than what it's about--no cheating by quoting synopses or back cover blurbs), what would it be?
That I had a total blast writing a light paranormal mystery romance set in St. Augustine!
* * *
Give Nancy a comment or a question, or tell us which hobby you'd like to see a fictional vampire pursue (besides surfing--man, I have got to read this book!), down there in the comments before 5 p.m. EDT on Friday, June 6. I'll draw a name and announce the winner Saturday morning.

If you don't have a Blogger account, just sign in as anonymous and leave your name at the bottom of your comment so I can call your name.

***I recommend against putting your e-mail in the comments, since that brings on spam. HOWEVER, if you don't leave a way for me to find you, you must stay subscribed to the comments or come back to the blog to see if you won.***
Good luck!
Labels: Contests, guests, reading